MyBudget360
February 20, 2012
The American economy appears on the rugged surface to be stabilizing but only if you fail to look under the hood. Today, we have a record 46,000,000 Americans on food stamps. Many of these people were once moving into the middle class but were launched off the economic treadmill. The banking syndicate that caused the greatest financial crisis since the Great Depression has largely blocked any substantivefinancial reform. So all the risks that led to the crash are not only pervasive in the system but are now much larger since governments are largely backing these giant irresponsible bets. The data for the typical American shows a gloomy economy largely disconnected from the news pushed out by Wall Street investment banks. Today we examine five charts and the implication they contain for the future of the American economy.
Chart 1 – Housing starts and permits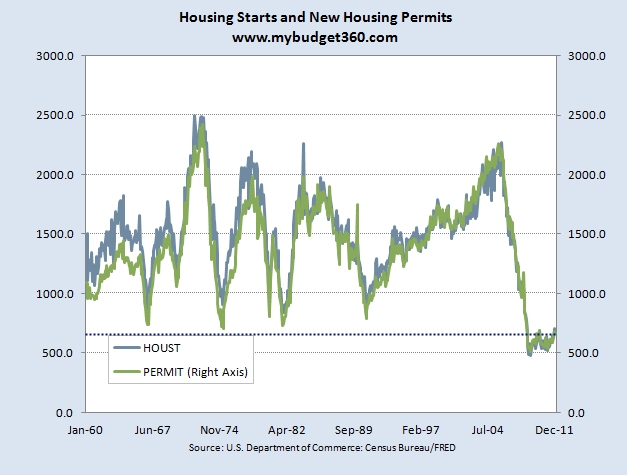 We first start with the collapse in the housing market. This is a giant part of the economy because residential housing has always been a key player in any economic recovery. Housing starts have collapsed to levels last seen in the Great Depression. The chart above is instrumental to understanding the massive lag that housing will have on the economy.
For example, at one point housing starts were running over 2,000,000+ homes per year. This incredible pace is now down to 500,000 and is slightly picking up. This is a key indicator to look at since builders are on the ground and have a better sense of demand. With many baby boomers downsizing and more foreclosures coming online, there is little reason to assume a major burst in residential building activity is in the cards for the short-term. As a matter of fact the odds are this may move lower in the next couple of years.