Bloomberg Markets
November 29, 2016
The dollar was on pace for its best month against the yen since 2009 as signs of U.S. economic strength spurred bets that monetary tightening will accelerate.
The greenback has risen more than 7 percent in November amid speculation U.S. President-elect Donald Trump will pursue reflationary policies, as futures signal growing bets that the Federal Reserve will follow an interest-rate increase in December with additional hikes next year.
The three-week rally since Nov. 4 was the dollar's biggest versus the yen in more than two decades. Hedge funds and other large speculators have boosted bullish dollar wagers to the most since February, according to Commodity Futures Trading Commission data. A report Tuesday showing the U.S. economy expanded more than previously reported last quarter added to the bullish backdrop.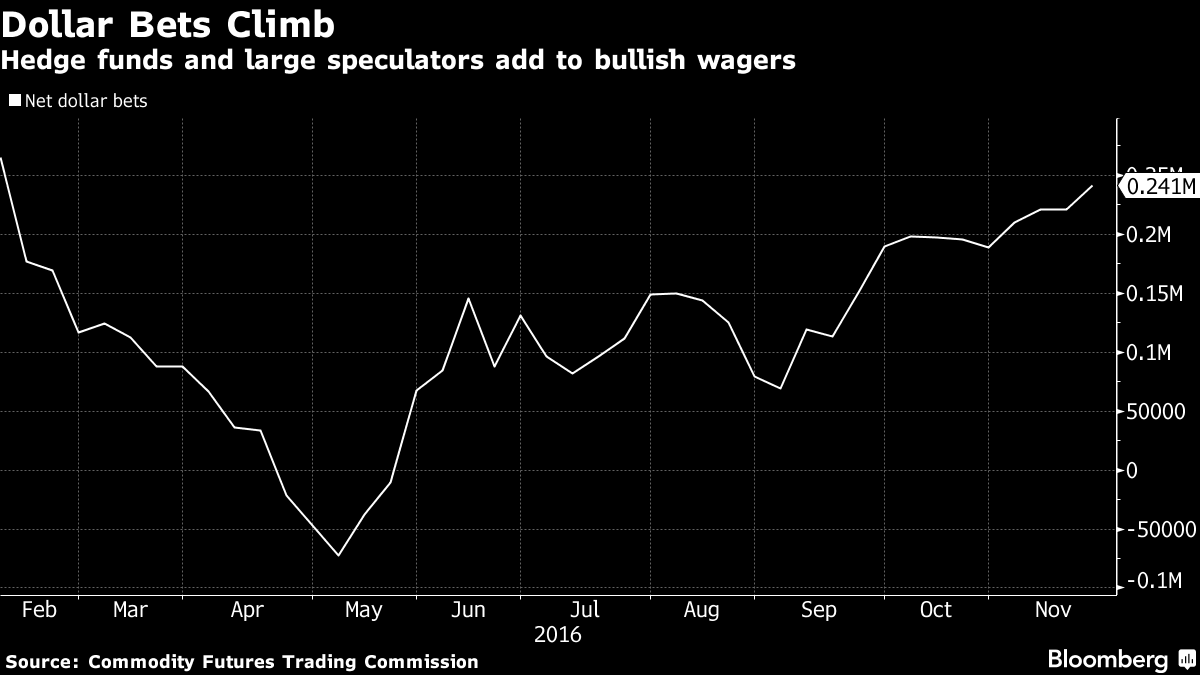 "The dollar's going to appreciate and we think the biggest move is actually going to come against the yen," Steven Saywell, global head of foreign-exchange strategy at BNP Paribas SA, said in an interview on Bloomberg Television. "The greatest policy divergence, or difference between central-bank policies, is going to be between that of the U.S. and the Japanese."
The bank expects the dollar to move toward 115 yen at the end of the first quarter and to 128 by the end of 2017.
The dollar appreciated 0.4 percent to 112.38 yen as of about 4:30 p.m. in New York, after reaching an eight-month high of 113.90 last week. The Bloomberg Dollar Spot Index, which measures the greenback against 10 major peers, is up 3.4 percent in November.
"Dollar-yen is particularly sensitive to the Trump-reflation trade -- that's clearly what we've witnessed over the last three to four weeks since the election," said Ned Rumpeltin, European head of currency strategy at Toronto-Dominion Bank in London. Still, "we're past the point where markets are willing to embrace the policy shift with blind optimism."